BVSc (Hons), BSc (Vet) (Hons)
Veterinarian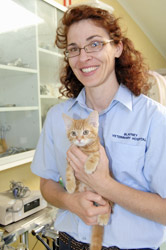 Joanne graduated from the University of Sydney in 1990, after completing a research year in Animal Genetics in 1987. Although brought up in Sydney, on graduation it was the attraction of the country lifestyle and rural veterinary practice which called her to at Wellington, NSW. Joanne moved to Blayney in 1993, joining the Blayney Vets and marrying local Richard Cheney. Working across the species – large horses and cattle down to the smallest of exotics, feline medicine is a particular interest as is soft tissue surgery – Joanne is the main soft tissue surgeon at Blayney Vets.
Joanne's father was a school principal so no surprises… education is a passion – that might be preschoolers, work experience students, veterinary nurses or veterinary students. It extends to education of clients to enable them to have the best relationship with their animals that can be had. Joanne feels that the best parts of practice are the relationship that builds between vet, client and animal and that you never stop learning.
Joanne loves working in and being part of the Blayney community. She is active in a variety of community groups, raising two young men and tending a huge and glorious garden overlooking Blayney.
---