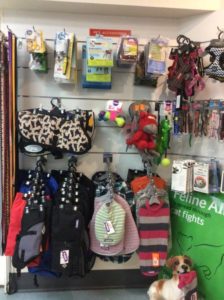 The retail area of our practice contains a wide range of supplies for companion animals, such as collars, leads, coats, medical diets and toys.
We also stock horse drenches, first aid medications, vitamins, and supplies for sheep and cattle. Special product orders will be available within 24 hours.
Pet products we sell include:

premium and medical dog and cat foods
coats for the Blayney weather,
decorative or practical collars,
medical and veterinary shampoos,
leads and training aids such as Halti head collars and car harnesses
extensive range of animal health products including flea, worming and heartworm products
Horse, cattle and sheep products include:
horse drenches
tetanus vaccines
first aid medications
injectable vitamins
oral worming preparations
equine bandaging
equine shampoos
grass tetany and milk fever preventatives

Our qualified nurses can give you free professional advice on your purchase of our quality products.