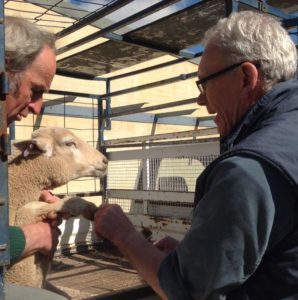 Blayney Vets are experienced in a wide range of large animal medicine and surgery. Plenty of parking is available at the rear for trucks and floats, or our vets can visit you at your farm.

We offer a 24 hour a day service to attend animals in need on your farm.
We also have a large selection of supplies for cattle, horses and sheep available for purchase.
Cattle
The veterinarians at Blayney Veterinary Hospital are accredited by the Australian Cattle Vets (ACV) for Pregnancy Testing of cattle. That means they can use the highly regarded "tail tags".
As well as manual pregnancy testing, we have the very latest in technology in this area… a battery pack/goggle BCF DuoScan Ultrasound for quick diagnosis in early pregnancies. So you get the maximum information on every occasion.
Horses
Our vets can carry out both manual and ultrasound pregnancy diagnosis in horses. We have a purpose built horse crush and a barn at the rear of the practice for your convenience.
All of our veterinarians are accredited to administer Hendra vaccinations for horses. They are also accredited by Thoroughbred Stud Book for Identification of horses.

Market Assurance Programs

Our veterinarians can offer assistance with Johne's diagnosis and control, and are qualified to conduct Australian Johne's Disease Market Assurance Programs (MAPs) in sheep, cattle, goats and alpacas.