Certificate 4 in Veterinary Nursing [TAFE]
Qualified Veterinary Nurse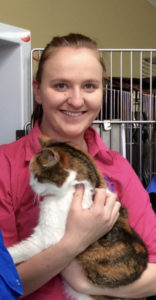 Chloe Tickner also  started working here while at school. With a smile that's infectious and a personality that a bonus in any work place Chloe did her Certificate 4 in veterinary nursing here and now, years later, Chloe is able to move to any section of the practice- rescuciating puppies, assisting with orthopaedic surgery or being head receptionist. Her special interest areas include clinical pathology  and surgery. Away from work Chloe lives on a farm, has lots of animals and really really loves travel.
---