Certificate 4 in Veterinary Nursing [TAFE]
Qualified Veterinary Nurse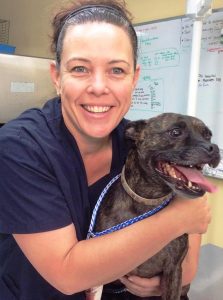 Helen Foran started her veterinary nursing career at the Walgett Veterinary Clinic  before heading off for two years to travel and work  throughout the United Kingdom .
After returning to Australia Helen completed her Advanced Cert. in Veterinary Nursing whilst working at the Gilgandra Vet Clinic and Dubbo Veterinary Hospitals. Helen then accepted a position at the South Nowra Veterinary Hospital as Head Veterinary Nurse.  Life then changed with a move to Cobar, employment with an Industrial Supply Company. Marriage soon followed, then a job transfer to Orange, a block of land at Forest Reefs and then two children. Whilst visiting BlayneyVets with her much loved best mate Cruiser Helen mentioned how much she missed being a Vet Nurse. Well the rest is history and Helen loves working as a VN again.Her skills from other positions mean stock,inventory, spread sheets are all very familiar but  she particularly enjoys the surgical nursing.There is no better feeling than to see an animal get better and reunite them with their happy owners.
---